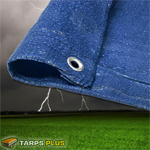 These hay tarp covers are Super Heavy Duty. Our hay tarpaulins are for serious farmers who need to cover hay bales. The hay tarpaulins and hay bale covers are farmer's favorite because they know what craftsmanship a true hay tarp should be. So, if you are looking for what the professionals use at the best price, try our hay tarpaulins.
Our hay tarpaulins can be used for a horse hay tarp or just regular heavy duty hay tarpaulins. Each hay tarp is reinforced with a super tough poly fabric and a tough super strong tensile strength. Special treatment for long outdoor life. Rope is encased in the hem and a spur eyelet is set into a multi layer fold Special U.V. Treated silver reflects light. These hay tarpaulins or farm tarpaulins are great hay tarpaulins for rain snow & wind. When it comes to covering horse hay with tarpaulins, we suggest our hay tarpaulins.


Hay Tarpaulins - Super Heavy Duty Poly Tarpaulins
8.5 oz. Per Square Yrd.
1400 Denier
14x16 Weave Count
Waterproof
Acid Resistant
Solid Brass Grommets Approx. Every 18 Inches
Heavy Duty Poly Tarpaulins
Mildew proof
Arctic Flexibility
Tear Resistant
The hay tarpaulins are black on one side and silver on the other - Triple Reinforced Seams Heat Sealed - 1 Inch Ring straps in Nylon Webbing Every 2 Feet - Triangular Reinforced fabric - Super Heavy Duty 16 Mill.
Need hay tarpaulins? Try our super heavy duty hay tarpaulins! We take pride in offering high quality hay tarpaulins to the farming industry. When buying hay tarpaulins it is very important to get double stitching, a thick poly coating and rope reinforced around the perimeter of the material. We know that hay tarp must keep the hay dry and hold secure so if you are in the market for long lasting hay tarpaulins you can be confident with getting them at Premier Tarpaulins.
Hay can be made from many different forms. The plants for hay include mixtures of grasses such as rye grass, lolium hay, timothy hay, brome hay, fescue hay, orchard grass, and other types of hay grass depending on region. Hay and grass are the foundation of the diet for all grazing animals and can provide as much as 100% of the fodder required for an animal. Grass and hay is usually fed to an animal in place of allowing the animal to graze on grasses in a pasture. Most farmers know that Hay production and harvest, colloquially known as "making hay", "haymaking", or "doing hay," involves a multiple step process. Hay cutting, drying or "curing," processing, and storing is all part of a long process. Hay fields do not have to be reseeded each year in the way that grain crops are, but regular fertilizing is usually desirable, and over seeding a field every few years helps increase the yield.
Some large hay bales and most small hay bales are stacked in a criss-crossed fashion sometimes called a "Rick" or "hayrick." These hay tarpaulins or farm tarpaulins are great for rain snow & wind protection. Since rain washes nutrition out of the hay and can cause spoilage or mold, hay in small bales is often stored in a hay shed or protected by tarpaulins. If this is not done, the top two layers of the stack are often lost to rot and mold, and if the stack is not arranged in a proper hayrick, moisture can seep even deeper into the stack. Hay farm tarpaulins are essential to farmers to protect the rain from the hay. The cheapest way to save your stock of hay is to use very strong and long lasting hay tarpaulins.
A Look At Hay Tarpaulins
Farmers have a great need for very high quality tarpaulins that they can use everyday as a part of their occupation. Choose hay tarpaulins that represent only the highest quality and craftsmanship at a great price. A hay tarp such as this should be reinforced on both sides. Most are made from a tough poly fabric to be able to prove strong enough for any job and will last with extended use. Some varieties are also treated so that they are UV resistant. The hay tarpaulins are also a great multi-use products that can be used for a lot of different things are are great for extended use in the elements. Our hay tarpaulins are made with very dense materials, featuring as least a 14 by 16 weave count and weighing over 8 ounces per square yard. Most varieties also have heavy duty grommets implemented around the edges at least every 18 to 24 inches, and these are designed in a very rust resistant steel so for long lasting quality. These grommets are implemented to allow the user to secure it easily as necessary.
These tarpaulins are treated several times so that they will last. They are tear resistant, mildew proof, water resistant or waterproof, and extremely flexible. The seams are sealed and heated so that they will stay hemmed and resist tearing. They are available in a number of various sizes, so that a farmer will have a lot of options to suit his needs. These vary in size from the 14 by 48 to the 45 by 48 foot. Most of them are black in color. This is the most popular color for hay tarpaulins. Farmers should be able to put their trust in a hay tarp that is high quality and will last through any job. Make sure you are only investing in the best kinds you can find to get your moneys worth out of them.